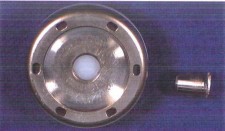 Recipients of recalled Zimmer Biomet Comprehensive Reverse Shoulder Should Review their Options
San Diego, CA, March 21, 2017 (Newswire.com) - Consumer Safety Watch warns orthopedic shoulder implant patients that have received a total shoulder replacement should investigate if their procedure involved the recalled Zimmer Biomet Comprehensive Reverse Shoulder. Many shoulder replacement patients have no idea which devices or products were used in their procedure and while Zimmer Biomet has commited to contacting recipients of the recalled devices, there is no guarantee that they will successfully reach all individuals affected.
Risks associated with the Zimmer Biomet Compreshensive Reverse Shoulder Include:
· Significant Bone Loss
· Infection
· Instability or Weakness
· Fracture of the Device
· Failure of the Device
· Metal Toxicity
· Other Serious Complications
· Death
The FDA has identified this as a Class I recall, the most serious type of recall. Use of these devices may cause serious injuries or death.
Recalled Product:
· Product Description: Comprehensive Reverse Shoulder System Humeral Tray Model 115340
· Trade Name: Biomet Comprehensive Reverse Shoulder Humeral
· Product Code: KWS, PAO
· Lot Numbers: All lots with part number 115340
· Distribution Dates: October, 2008 to September, 2015
· Manufacturing Dates: August 25, 2008 to September 27, 2011
· Devices Recalled: 3662
Device Use
The Comprehensive Reverse Shoulder is a shoulder replacement device that is surgically implanted to help restore arm movement. This device was intended to be beneficial for patients with rotator cuff tears who have developed a severe type of shoulder arthritis known as arthropathy and previously failed shoulder joint replacement.
Reason for Recall
Zimmer Biomet is recalling the Comprehensive Reverse Shoulder because these devices are fracturing at a higher rate than is stated in the labeling. Fractures may result in revision surgeries which could cause serious adverse health consequences such as permanent loss of shoulder function, infection, metal toxicity, instability or weakness, other serious complications and rarely, death.
Who Should be Concerned
· Health care providers using this device during reverse shoulder replacement surgeries
· Patients receiving total shoulder replacements using this device
What to Do if You Are Affected
On December 20, 2016 Zimmer Biomet sent an Urgent Medical Device Recall Notice and a Certificate of Acknowledgement form to all affected customers. The notice asked customers to:
· Review the safety notice and ensure appropriate staff is aware of the notice.
· Identify and quarantine any affected devices in stock.
· The Zimmer Biomet sales representative will remove the affected device from the facility.
· Complete and return the Certificate of Acknowledgment form within 3 days via email to corporatequality.postmarket@zimmerbiomet.com.
· Retain a copy of the Certificate of Acknowledgment form for records in the event of a compliance audit.
The notice also stated that there are no specific patient monitoring instructions related to this recall that are recommended beyond existing surgical follow up protocol.
Contact Information
Consumers with questions or concerns should complete the contact form at Consumer Safety Watch or call 877-922-4111 to learn more about how to determine the specific device implanted and if they are at risk.
Source: Consumer Safety Watch
Share: